(If you're looking for Shelly's Birthday Bash Blog Hop ... please scroll down ... it's the next posting.)
Here it is Tuesday once again and that means it's time for another Midnight Madness Sketch Challenge
!!
This weeks sketch...it's "YOUR PICK" Make it fancy, clean and simple, or somewhere in-between. Remember to click on the sneak peek button on the side bar for the following weeks sketch each Friday.
Enter one style or both this week.
Just have fun and come play with us :)
Our MMSC113 Weekly Bonus Sponsor is..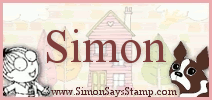 This week's sponsor is Simon Says Stamp. One random winner will win a
$20 Gift voucher
to their fabulous store. Be sure to stop by and check out all their wonderful crafting products.
Thank you so much for your wonderful prizes this week.
~~~~~~~~~~~~~~~~~~~~~~~~~~~~~~~~~~~
Our July Monthly sponsor is....
Petaloo
Be sure to check out the DT projects made with Petaloo flowers.
Click
HERE
to see the monthly prize details!
I am having SO MUCH FUN creating with these sketches and the Petaloo Flowers are FABULOUS!!
(Tissue Box Cover & Matching Card)
This week, I used a 'Hot Water Soaked Lipton Tea Bag' to color my flowers! That's right ... I let a teabag sit in a half cup of HOT water for a few moments then lightly squeezed the excess water out of it and began 'daubing' onto my flowers which were sitting on top of a couple paper towels. Once they were dry, I sponged the edges using Tim Holtz 'tea dye' distress ink.
Can you see all the little 'pink' and 'greenish' colors, here & there on the flower ... that came from the tea! I didn't add any additional color other than the edging. Isn't that cool!!
After coloring this flower with tea and while it was still 'damp' ... I used my flat tweezers and gave each petal a little "TWIST". This gives your flower even more dimension and realistic appearance.
(click on any image to enlarge)
As for my matching card, I have used this awesome 'Vintage Auto' digi image from "priscillastyles" as my focus image and have decorated the card with the same color scheme & embellishments as the Tissue Box Cover. After coloring this PETALOO flower with the hot tea bag, I let it dry and added a light sponging of black Versafine ink over the top to pick up the dimension lines in the flower.
You really need to try these Petaloo "Color Me Crazy" flowers ... there is NO END to how creative you can be with them! OKAY ... now it's your turn ... please come join in the fun at the Midnight Madness Sketch Challenge ... you'll LOVE IT!!
OH >>> and before I forget >>>


Thanks for the visit!!
Darlene