Happy Friday Afternoon Friends!
I've spent most of my day cleaning & laundry (just gotta do it sometimes LOL) but I did
make a card yesterday and wanted to share it with you.

I was in need of a sympathy card and even though I have several in my Craft Show sale box, I wanted
to make something special for the person I'm sending it to. So I decided to create a quick panel using some of the awesome digital stamps available over at Beverly Cole's Etsy Shop called
TheArtsystamperShop
I began by choosing what flowers I wanted to use for the focus image ...
This is a fabulous kit with images you can color yourself or precolored for you. Today I selected the precolored single flower image but then changed the color in my software to blue. Then copy/pasted that same image and reduced the size. I then copy/pasted that smaller flower to create my 3 flower cluster before modifying the color. As you can see I made one of the smaller flowers a darker shade of blue then the other two ... always need a bit of contrast! LOL
Next, I brought in my leaves and selected to 'place to back' which put them behind my flowers.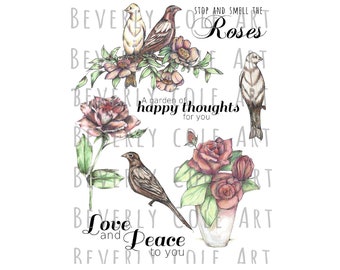 The last thing I needed was to select my background. For that, I chose one of the beautiful papers available in the
Artsy Jellies Paper Pack
.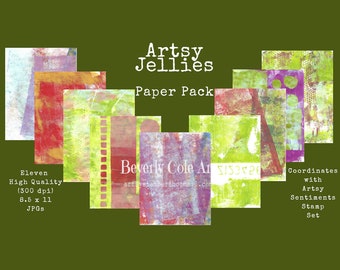 After printing onto glossy photo paper, I punched the corners and matted it with green card stock. A few sequins and Nuvo Crystal Drops for embellishment ... my card is ready for a message and a stamp.
If you're not familiar with Bev's work, you are missing out!
She also has a challenge blog that you only need to follow the theme to join in
and YOU could WIN some of Bev's amazing stamps! I hope you'll consider playing along!
Here are links that will help you check out all things Artsystamper!!

TheArtsystamperShop Etsy
Here's wishing you a FABULOUS weekend ahead!